Solution Studies – Hard Drive Imaging
Joel Coffman
Hard drive imaging is a process where the data and structure information on a hard drive (also known as the code master) is mirrored onto other hard drives that will then be loaded into computer systems used throughout a company or organization. Many companies will contract with solutions providers for this service for a wide variety of reasons. Leading this list is time. Organizations simply do not have the scalability to take on this process internally without creating a large amount of downtime for their workforce. It can also task an organization's IT staff with more work than manageable and create other workflow issues. By having the hardware imaged by a third party, a company can ensure consistency with their systems, control access for their organization processes, and create a seamless launch as systems are set up for immediate (plug-and-play) use.
In order to ensure that you reap all of the benefits of this value-add service, the right solutions provider must have an expert, detailed-orientated staff that adheres to a strict imaging process. This protocol begins once the code master drive is received from the customer. After a copy of the code master is made for backup purposes, the hardware is received and checked to make sure the serial number on the box matches the actual equipment sent from the factory. Once the numbers are matched, technicians will place the equipment on anti-static surfaces while wearing gloves to limit residue. Technicians will then ground themselves in order to remove the hard drive before placing it into the hard drive imaging machine. While the machine can handle multiple hard drives at one time, each drive averages between 7-10 minutes to be imaged depending on the size of the code master. The machine will not only make sure that each drive is fully functional and not flawed in any way but will also check the partitions on the drive to make sure there is enough space for the imaging to proceed. Upon completion, the newly imaged hard drives are re-installed by the technicians, who then fully test the equipment and components. After the systems check out, the equipment is placed within a reinforced shipping box for safe transport to the customer.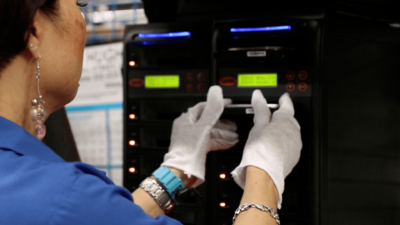 For more information on hard drive imaging and other value-add configuration services, visit our contact page.