WE SOURCE. WE SUPPLY. WE CUSTOMIZE.
At SabeRex, we pride ourselves on the ability to provide any customized configuration your existing products may need, along with the supply chain and product life cycle expertise to support your product's evolution beyond its original design. From procurement, box builds and kitting to systems integration, custom configuration and more, our expert team can handle the modifications your product requires in an effective and efficient manner. Our custom Value-Add Configuration services include the following and more:
Systems Imaging & Configuration
Image Archiving
Asset & RFID Tagging
Data Migration
Laser Etching & Ablation
Software Loading
Color UV Imaging
M2M Device Management
Full Decal Overlays
Project Management
Hard Drive Imaging
Rack & Stack Services
Third-Party Software & Peripherals
Digital Signage
POS Systems
Purpose-Built Form Factors
Custom System Builds
Software Development
Software Integration
Store-In-A-Box Solutions
Procurement
Kitting
Custom Crates & Packaging
Component Sourcing
Failure Analysis
Data Destruction
Disaster Recovery
Asset Recovery / Disposal
Tagging & Serial Number Reporting
Warranty Adjudication
Call Center Integration
Chromebooks
Enterprise-Class Products
SabeRex: Value-Add Configuration Advantages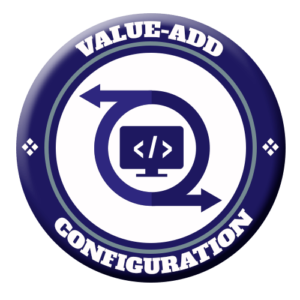 We provide you with one partner to customize your products interior as well as exterior; reducing the number of suppliers and material transfers to multiple sites.
Our expertise and access to the latest technologies and methods of printing, etching, imaging, tagging, configuring, and system integration provides you with greater flexibility and a wider range of options to manage your products and your costs.
Our team will build, test, pilot and modify your company's image prior to full deployment in order to minimize issues in the field. An ISO-certified factory, SabeRex's stringent quality processes and first article sign-off give you peace of mind and allow you to focus on your core business.
VPN or dedicated T1 lines ensure that the appropriate security concerns are addressed when connecting into your existing IT infrastructure.