Feeling Like a Million Bucks
Trevor Hendricks
SabeRex's Texture Difference
---
SabeRex's design and production know-how matched with Carbon 3D print technology leads to products that look, feel, and function better than the rest. Through the combination of Carbon's printers and software, textures and finishes once thought impossible are now giving forward-thinking companies an edge over their competition.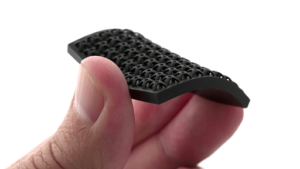 ---
Complete Design Control: Complex, Unmoldable Geometries 
Curved surfaces, undercuts, and internal identifying marks – these characteristics not only look impressive, but can serve design considerations as diverse as biomimicry, hydrophobicity, and friction/flow control.  Up until a few years ago, these were either very expensive attributes to tool or completely unattainable. 
Security: Protection over Intellectual Property 
Adding identifying marks in unmoldable areas, such as blind channels, can help protect a product from knock-off parts. Businesses can make this part of their model, securing design and copyright patterns for parts to add legal protections to product designs. 
Go Fast with Higher Perceived Value and Higher Performance 
Textured parts just feel better than their counterparts – this difference can be beneficial at stages well before end-use. Due to the ease of incorporating textures into prints, design teams can get a better picture earlier about the exact way a final product will look and feel. With injection molding, tooling costs are too high to incorporate texture into a product's early iterations, meaning that design teams using injection molding often don't know the product's exact finish until full production is underway. A better idea of what a final product looks and feels like means fewer iterations and a faster time to market.
---
When it comes to end-users, high-quality textures and finishes can make all the difference. Textures can enhance the grip of handheld products and hide deterioration on industrial products subjected to intense use. Factoring in the wide range of Carbon's high-performance resins, the ability to produce parts that look and feel expensive while saving your design team time is completely within your grasp.
Come feel the difference for yourself – book a factory tour or order a sample coupon today.