SabeRex Case Study: Aerospace Components
Trevor Hendricks
Whether you're looking for support with product design or you need rapid prototyping services, the SabeRex team has decades of enterprise-level experience that give us a bird's-eye view of the big picture in manufacturing processes. We make things, we make things better, and we make systems work.
---
Nowhere does this skillset come in handy more than the aerospace industry. One of our clients presents a near constant need to iterate and build new systems in this highly competitive market. The most recent example was a testing system they designed that needed a custom made capacitor bracket and in-line data filter.
After a quick analysis of the system we quickly got to work. Our sister company, TekRex designed the capacitor bracket and within a few iterations, SabeRex was onto full production. When it came to the filter, the client's engineers met with our team and decided that a PCB rather than a cable was the way to go. From there, the client designed a PCB to our dimensions, while we started sourcing components and manufacturing an enclosure for it.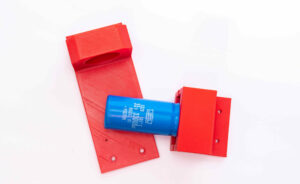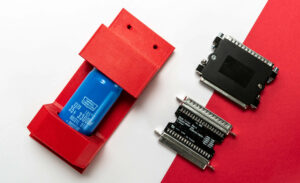 All told, the client had a functioning test system in a matter of weeks and was even able to continue iterating on the design once it was up and running, thanks to 3D printing. Not only did they save time and money avoiding injection molding, the simplified bracket design saved them even more cost by simplifying the assembly process. The PCB filter also improved the final results by smoothing the incoming data and providing better decision-making abilities. Better, faster, and with more value added, this project had every hallmark of a SabeRex collaboration.
---