Solution Studies- International Shipping
Joel Coffman
Your industry insight into technical manufacturing operations
"In International Shipping, the line between origin and destination isn't as straight as you might think, and it can be extremely difficult to navigate, but you're not alone."
International shipping can present a number of unforeseen challenges. While your goal is to have your product reach its final destination on time, there are a number of obstacles standing in your way. Things to consider before that first box leaves your dock: tax implications, customs, insurance, brokers, "last mile" local carriers, paperwork, government restrictions, changing shipping regulations, and more. Whether you are a mid-size company charting new waters or are a Fortune 100 seasoned shipper, preparation, knowledge, and working with a reputable Third-Party Logistics Provider (3PL) can go a long way in ensuring that your valuable cargo makes it to its final destination.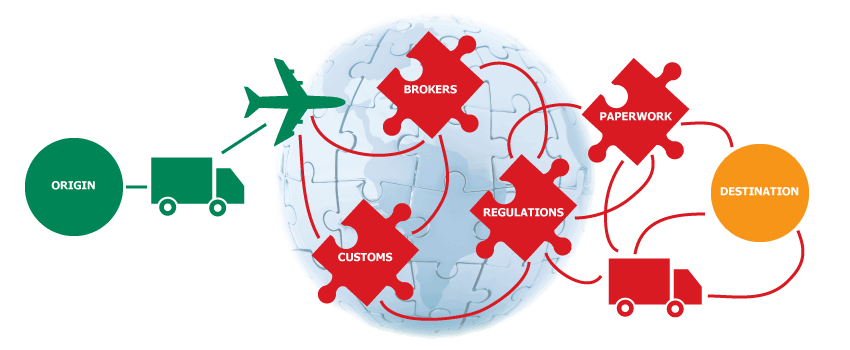 First, to avoid unnecessary complications, ensure that you understand the International Rules and Regulations surrounding your shipment. The most common problems encountered with international shipments occur from paperwork errors and customs brokers not having the proper information about your items. To avoid these delays and additional cost, make sure that your preferred shipper is able to collaborate with contacts at both the origin and destination to guarantee all paperwork is in compliance with regulations and procedures.
Secondly, know which transportation mode is best for you. When choosing your mode of transportation be sure you have a clear understanding of your timeline, budget and any regulations associated with the materials (electronic devices, batteries, chemicals, etc.) you are shipping. If cost is a primary concern, ocean shipments are going to be the optimal solution. If time is crucial, airfreight is often recommended, and if FDA or highly-regulated materials are being shipped, contacting a logistic specialist is your best route.
Third, understand what is required to see the shipment through "the last mile", a key step that is often overlooked and can be difficult to navigate. Many international shipments by major carriers like UPS, FedEx or DHL, require the use of other local logistics carriers once the shipment arrives in country by law, and if arrangements are not made, your shipment could be held in customs and incur additional warehousing fees or never reach its destination in time.
If this sounds confusing and requires a lot of work and knowledge, you can save time, hassle and worry by asking for help. As indicated above, no matter your experience with international freight, it doesn't take much for a shipment to get complicated fast. Relying on a 3PL provider will give you the opportunity to utilize trained specialists, versed in the ever-changing regulations surrounding international shipping. They can act as an extension of your logistics team and provide you with visibility and control of your shipment. 3PLs will:
Consider all tax implications and recommend the most cost-effective solution.
Determine if carnets, commonly known as merchandise passports, should and can be utilized to avoid extensive customs procedures, eliminate payment of duties and value-added taxes, and replace the purchase of temporary import bonds.
Organize your booking with multiple carriers and all local logistics entities required by the destination county to ensure that the shipment reaches its final destination.
Work with customs to assure all paperwork is compliant with the local laws and regulations.
Determine the best port of entry for avoiding extra obstacles, creating cost-savings, and improving delivery efficiency.
Work through language barriers.
Facilitate any unforeseen issues that may arise.
Shipping materials internationally is complicated and requires a logistics specialist with the experience and knowledge to ensure a smooth and cost-effective solution. Keeping up to date with the ever-changing global requirements and regulations is a full time job and may be outside of the capabilities of your shipping department. Leaning on a 3PL provider can help you navigate the challenges of global shipping, and avoid costly pitfalls.
For information on how SabeRex can help with your international shipping needs, check out our Integrated Logistics offerings as well as our full-range of service capabilities.